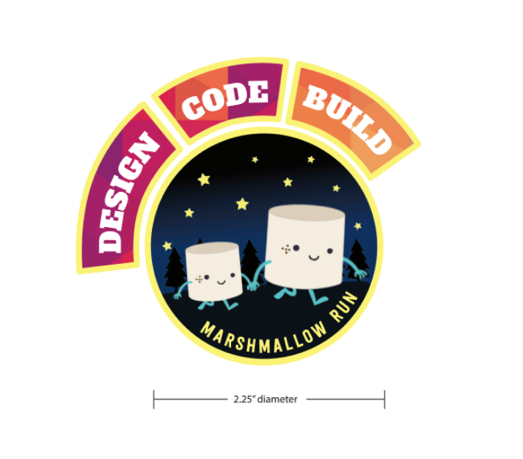 This is a patch set in 4 parts:
Round "Marshmallow Run" night scene patch: earned by one participation in any program or workshop.
"Design" Patch: Opt into one of the Game Designer courses we have (5 meetings of 2 hours each) to earn this patch.
"Code" Patch: Opt into one of the coding courses we have for the game (Scratch, JavaScript, etc. – 5 meetings of 2 hours each) to earn this patch.
Two ways to earn the "Build" patch:
"Build" Patch: Opt into the Game Level Designer program and meet with us once a week for 2 hours, for 5 weeks to complete your game level.
"Build" Patch: Marketing: help us tell the story to the media – we show participating Girl Scouts how to create convincing social media posts, video clips, press releases and even banner ads to get the word out about the game once we launch. Also, if we get to go to any conventions, you will get to help with logistics like booth and exhibit design.