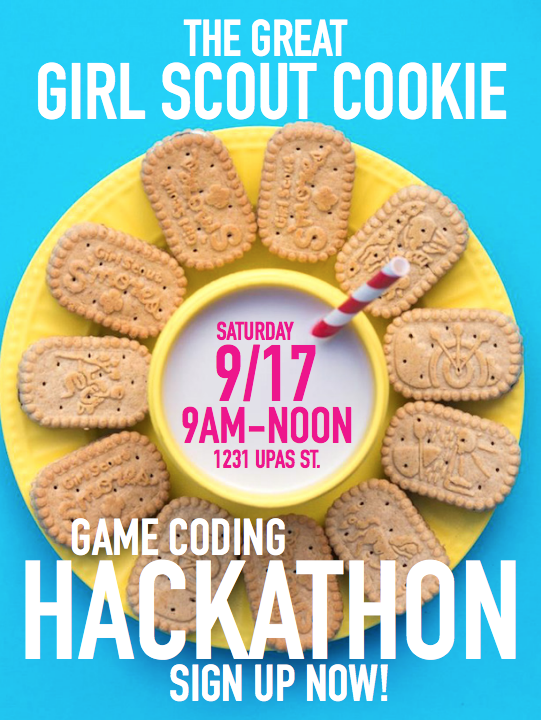 To celebrate Girl Scout's newest cookie, S'Mores!, we are holding a Scratch Hackathon event at Girl Scout Balboa Campus. Bring your laptop, get yourself a free Scratch account on http://scratch.mit.edu, and come join the fun.
We will offer an in-depth programming lesson for the first hour, then coach the girls as they try to accomplish the development of their Girl Scout Cookie-themed game for the next two hours. Coding topics we will cover in the programming lesson include collision-detection, game-scoring, physics and gravity, animated parallax backgrounds, animated sprite creation, and more. We will also teach how to create and modify graphics using both the Scratch development environment as well as free Photoshop-like applications such as Pixlr.
Whether you want to create a platformer with powerups, a cookie-decorating game, a poll, or something else, our experienced coding coaches will try to help you achieve your vision. Anyone who would like to may present their games at the end of the session. Prizes will be awarded, code will be learned, games will be published and favorited, and there will be pizza and snacks for everyone.
Grades: K – 12
Date/time: Saturday, September 17, 9am-12noon
Location: Girl Scouts Balboa Campus at 1231 Upas Street, San Diego 92103
Cost: $25
Contact: Catherine Eng, catherine.eng@designcodebuild.com, 818-795-7184
This is a great way to learn some complex and in-depth game coding concepts and gain valuable hands-on coding experience at a great price and have a lot of fun at the same time. Space is limited, so please register now!
Register Here: